Do you need a new creative writing activity for your students?
Motivate your students to think and write creatively with these super hero writing prompts.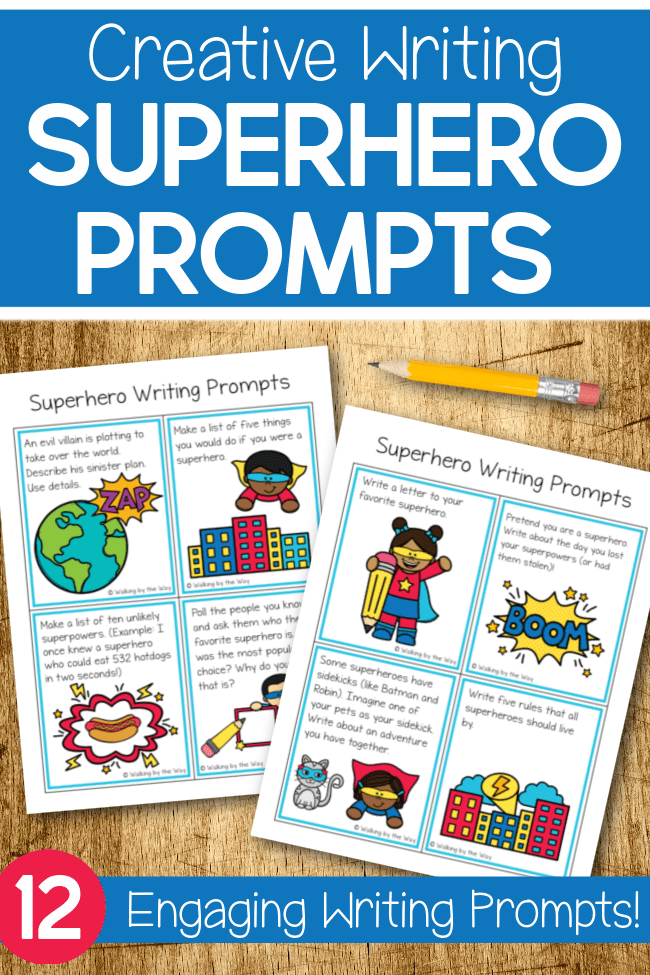 Superhero Creative Writing Prompts
The superhero writing prompt cards include these twelve imagination-boosting writing prompts:
You can choose ONE super power. What would it be? Why?
Design your superhero costume. Draw and label the different parts of it and explain why you made the choices you made.
Write a silly story about a superhero whose powers don't work correctly.
Everyone you know has a super power except for your friend, Mandy. Why doesn't Mandy have a superpower yet? When will she get it? What will it be?
Write a letter to your favorite superhero.
Pretend you are a superhero. Write about the day you lost your superpowers (or had them stolen)!
Write five rules that all superheroes should live by.
Some superheroes have sidekicks (like Batman and Robin). Imagine one of your pets as your sidekick. Write about an adventure you have together.
An evil villain is plotting to take over the world. Describe his sinister plan. Use details.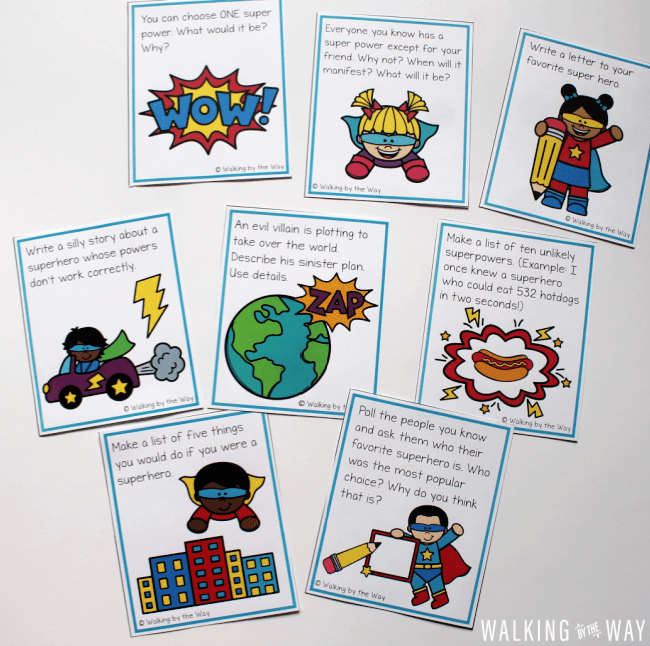 Make a list of five things you would do if you were a superhero.
Poll the people you know and ask them who their favorite superhero is. Who was the most popular choice? Why do you think that is?
Make a list of ten unlikely superpowers. (Example: I once knew a superhero who could eat 532 hotdogs in two seconds!)
How to Use the Superhero Writing Prompts
You can use these superhero writing prompt cards with a variety of ages.
Directions:
Print the prompt cards and word bank. Cut out the cards.
Laminate the cards for durability. If desired, hole punch the cards and add them to a metal ring.
Consider reading a superhero themed book (or books) to your student.
Let your student choose a card. (If you are homeschooling, you could add a bit of mystery by putting the cards in a jar and letting your student draw a card.)
If your student has a hard time writing, ask questions and dialogue ideas together before your student begins.
Decide if you want to give your student a guideline (This needs to be at least four sentences.) If you do, be clear about your expectation.
Write!
Inspire Creative Writing with These Superhero Themed Books
To give your students extra inspiration for their responses to the superhero writing prompts, try reading some of these picture books before writing time.
Download Your Free Superhero Writing Prompts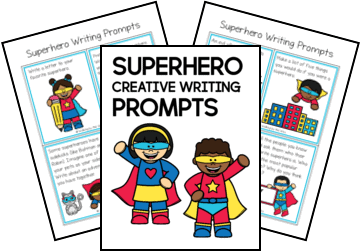 Subscribe to Walking by the Way's Newsletter in order to grab this free creative writing activity.
More Creative Writing Lessons and Activities for Your Student
If you are looking for additional creative writing lessons for your student, try some of these: