This printable friendship card for kids is a great way to sneak some writing into your classroom or homeschool. It's also perfect to hand out on Valentine's Day or Friendship Day (or ANY day!).
What's Included in the Friendship Card for Kids File?
The printable friendship cards include three different options for your child to choose from. Choose the option that best suits the needs of your student.
Option #1: You Are My Sunshine with To and From Prompts
This option is fantastic for a younger student. They simply need to fill in the to and from blanks.
Option #2: You Are My Sunshine with a Blank Space
This option allows your student to add some personal messaging at the bottom of the friendship card.
Option #3: Blank Friendship Card
This option has two blank spaces, allowing your student to add a longer message at the top and bottom of the card. This variation could even be made into a thank you note.
Friendship Card Word Bank
The file also includes a word bank. This will help your student with message ideas as well as boost spelling confidence.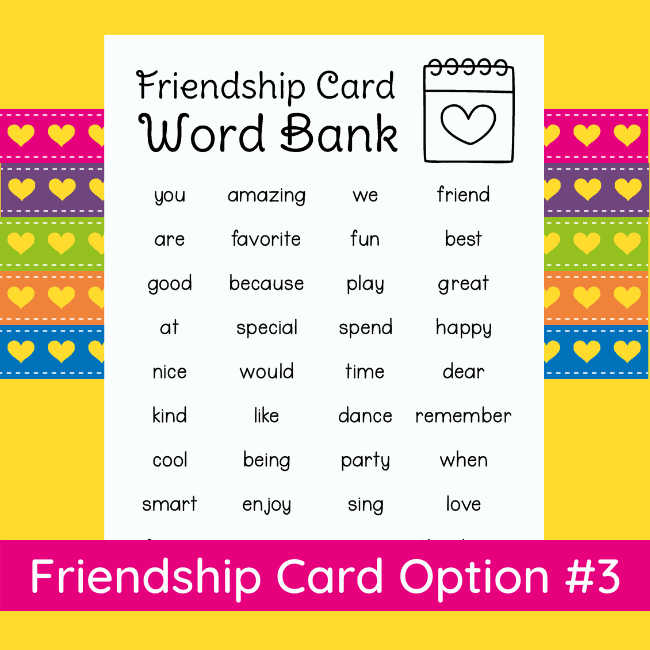 How to Use the Printable Friendship Card for Kids
Choose one of the writing templates and print it.
Brainstorm with your student. Who will be the recipient? Why? Would your student like to let this person know?
If your student is using blank option, have your student practice what to write on a piece of paper. Check your student's work for spelling and capitalization. Have your student copy the final message onto the card template.
Color the template and cut around the heart and sun shapes.
Give away the card and brighten someone's day!
Get Your Free Friendship Card
Use the form below to subscribe to the newsletter. Once you confirm, you'll receive an email with the link to the You Are My Sunshine printable cards. If you are already confirmed, simply enter your name and email address below, and you will receive an email with the link.
More Cards for Kids
Are you looking for more printable cards for kids? Try these!