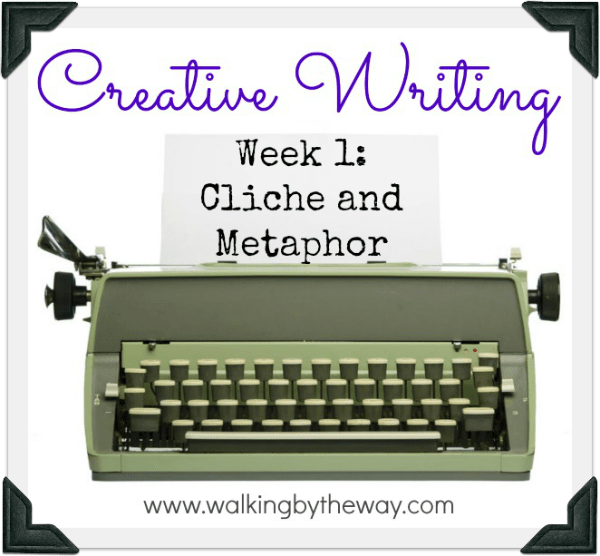 Week 1 ~ Cliche' and Metaphor
A cliche' is so easy to write. It requires no thinking on the part of the writer. It also requires no thinking on the part of the reader. I decided to start this class with a discussion of cliche's and how I will bleed red pen all over their papers if I find any. Kidding. Just kidding.
We also discussed metaphor. Metaphors usually require much thinking on the part of the writer and reader. It's a win-win. I honed in on Emerson's great quote, "The poet has a new thought . . ." I also gently pointed out that their metaphors must make sense. You could write, "Love is a refrigerator." But, um, you better be able to make a logical connection between the two, and that would be a difficult connection to make. We read through many poems with examples of metaphor (and simile) and talked about why/how they work.
Week 1 ~ Teacher's Notes
1. Discuss what a cliche' is and why you should avoid them like the plague.
2. Complete cliche' page.
3. Discuss metaphor/simile and why they are grand.
4. Read "A Cliche'" by Eve Merriam.
5. Read "Metaphor" by Eve Merriam. (I used a file folder and piece of paper to demo this poem as I read it.)
6. Read "Words" by Pauli Murray (I used real money to illustrate.)
7. Read "A Loaf of Poetry" by Naoshi Koriyama and discuss it.
8. I read the "Metaphor Poems" page to them (without giving them the hand-out and without telling them the titles of the poems). They tried to guess the title of each poem.
9. We read over the assignment sheet for Week 1. I made sure that they all understood the requirements of each assignment.
Click on the image below for a bundle pack of everything I created and printed for the first day. It includes the syllabus, poems for discussion, cliche' worksheet, assignments for the first week, and quotes for copywork.
Please let me know if you have any questions about this class; I will be happy to answer!