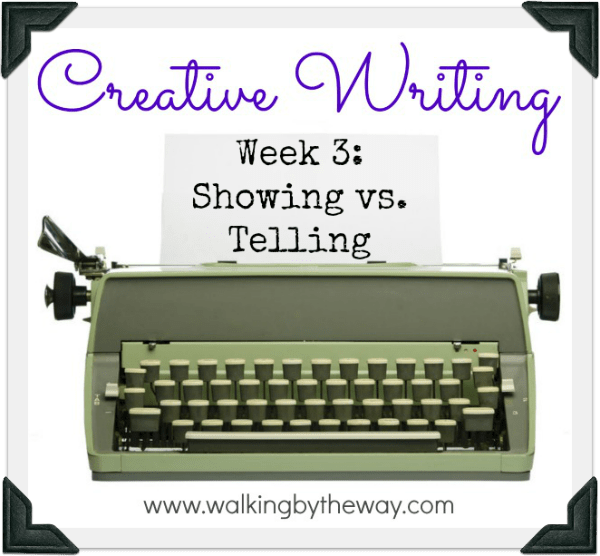 This week we learned the difference between showing and telling.
A good writer doesn't create a great tale by telling. A good writer grabs his blank paper canvas and dips his paintbrush in red, blue, and yellow. When he is finished, his reader can see images, actions, and places. A good writer shows.
Teacher's Notes
1. I'm sure we discussed some of the homework assignments from week one. One of my favorite things to do is to highlight a few homework assignments– mentioning what's great, why it's great, and what's not so great. I ask the class questions prompting discussion about how the student could make it better.
2. We talked about words– wimpy and wonderful.
I highlighted words on their homework assignments and banned them from using these words (in excess). Students recorded their personal banned words on the "Wimpy Words" hand-out. I had them add about ten more words to the list, banning the entire class from using these.
I kept right on blabbing about how many wonderful words we have in our language. I mentioned that each word carries baggage — like a little hobo sack right on its back! You have to find the right word and use it at the right (or the write) time.
We brainstormed eight different words for "said," and students wrote them on the chart. The other words (ate, sleep, etc.) were assigned as homework, and the students were encouraged to bust out thesauruses to get the job done.
3. I discussed what it means to TELL versus what it means to SHOW. I highlighted some examples from one of the books I was reading at the time. I think I used The Mysterious Benedict Society and the Prisoner's Dilemma. (Yes, I'm super-intellectual like that.)
We looked at the (very short) "Once upon a time there was a girl . . . " story. The students had to SHOW three things in the boxes.
First box: show "three years old"
Second box: show "her brother bothered her"
Third box. show "she got very mad"
I gave them time in class to work through this. They read their examples for all.
4. To cement the showing concept, I gave each student a word (confused, embarrassed, silly, lazy, sick, etc.), a large piece of paper, crayons, and markers. I asked them to draw a person exhibiting the word then to add phrases explaining the details drawn on the person. They did such a great job.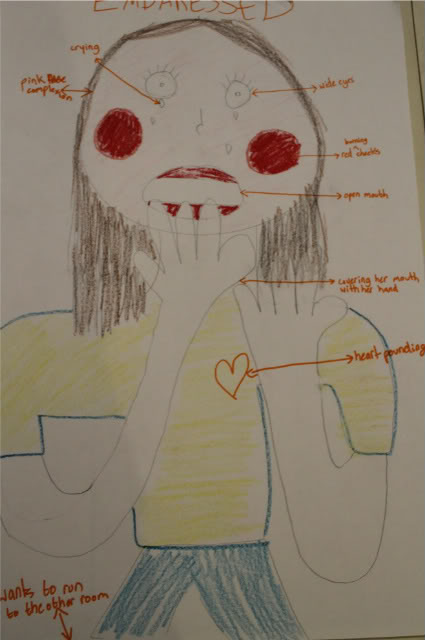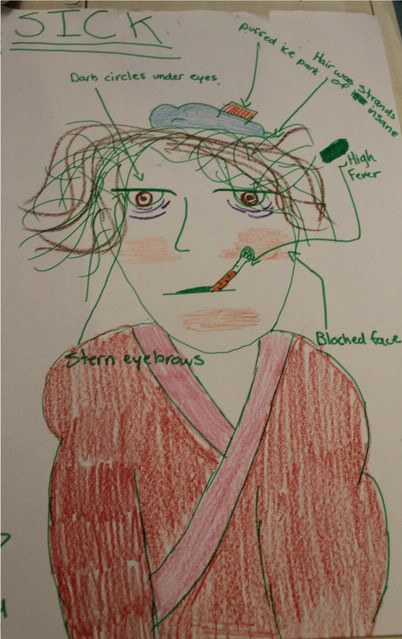 I reminded them to try to draw pictures with their words (and not just with crayons). Writers have that kind of power.
5. Assignment sheets were passed around the room, and thankfully, no one passed out as I explained what would be required for homework.
You can click the image below to download the printables for Week 3.