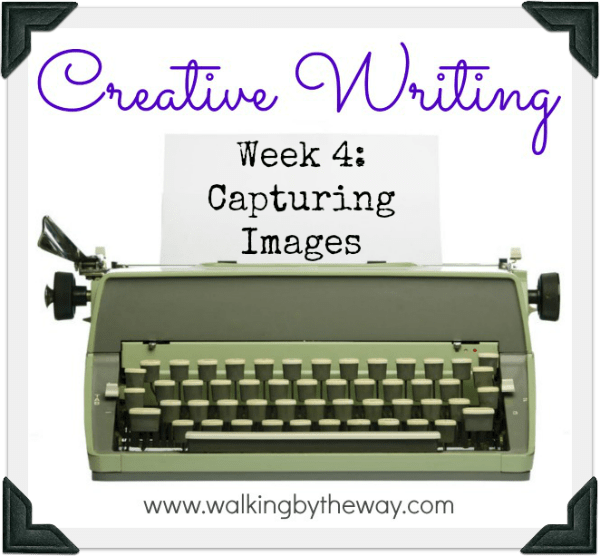 We've mastered metaphor, studied sensory details, and improved our ability to show. In Week 4, students learned to capture images. We had some poetic moments. I love poetic moments.
Teacher's Notes
1. Discuss the good and the bad (and how to make it all better) from week two's homework.
2. We played a game with the "Wonderful Words" exercise. I chose a word. The students (in an orderly fashion) rambled off the replacement words they recorded. If anyone had a word that no one else had, they got a point. Students kept track of their points. We played this game for four different charts. At the end, the person with the most points was declared the winner.
3. We read "The Red Wheelbarrow" by William Carlos Williams. We analyzed every line. We looked at each image. We discussed the larger image. I told them part of their homework assignment for this week was to write a copycat of Carlos' poem . . . same number of stanzas, lines, and syllables in each line plus three images.
4. We read the "So Janie began to think of Death . . . " paragraph. We discussed the images used in the paragraph and all the things we loved about Hurston's writing. Each student chose an emotion to write about (part of the homework).
5. We went outside and become human cameras — using our pens and paper to capture snap shots of nature.
Here is an example of one snap shot:
Clouds


The butterflies of the sky
When they move

Like whipped cream when they are puffed

And when they are long they seem
Like soft feathers

Like white fire

by Ivy Shutt

I want to mention that I give the students a ton of different exercises to do. I don't expect each exercise to ripen into a fantastic poem or piece of prose. I do expect each student to work hard. If they are willing to work hard and complete the assignments, they will harvest (at least) a few great pieces by the end of our time together. Encourage your students to keep trying . . . especially when it's a struggle.
Click on the image below to grab the printables for week four!