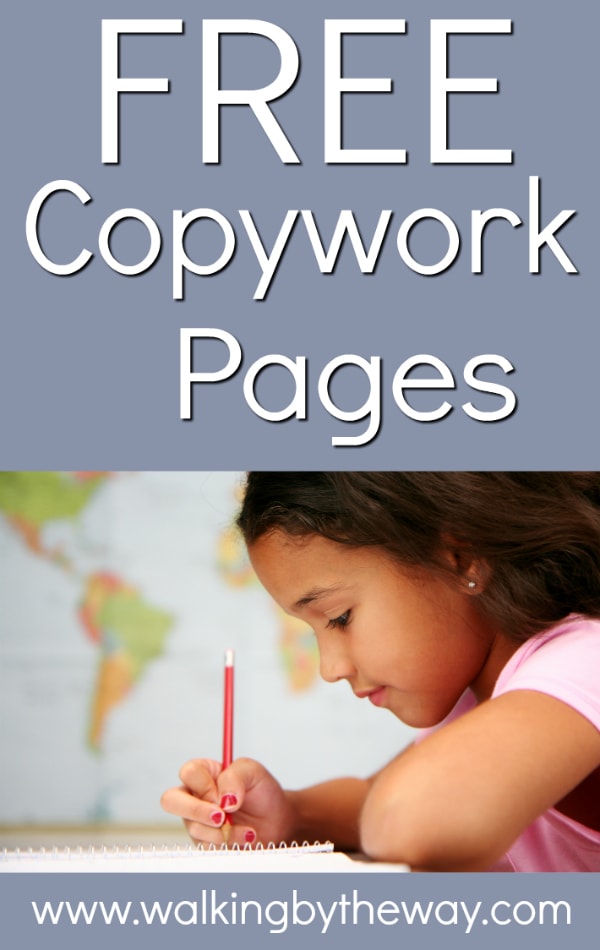 Once my children are capable of writing fluidly without worrying about how to form the letters in the alphabet, we begin copywork. Copywork not only provides handwriting practice, but it also helps the student learn basic grammar, punctuation, and sentence structure.
What Is Copywork?
Copywork is the simple art of copying a passage word by word and mark by mark. When I believe my children are capable, I give them short passages to copy. I ask my children to look for the details–the capital letters, the punctuation marks, and the spellings of each word. The student is responsible to copy the passage perfectly.
What Should Students Copy?
Students should copy inspiring words, great ideas, fantastic literature, and favorite passages from books they are reading. Copying great literature will improve a student's spelling, grammar, vocabulary, and writing as he will learn syntax and sentence structure. Copywork is an integral part of our learning language arts as we do not use a spelling, grammar, or writing program in the elementary years.
List of Free Copywork Pages
Below are the free copywork pages I have created to share on the blog. I strive to use inspiring quotes and passages containing a variety of punctuation marks.
African Proverbs Copywork Pages
The Gospel of John Copywork Pages
Charlotte's Web Copywork Quotes
Days of the Week Copywork Pages
Hans Christian Andersen Fairy Tales Copywork Pages
How the Grinch Stole Christmas Copywork Pages
Johnny Appleseed's Blessing Copywork Pages
Months of the Year Copywork Pages
The One and Only Ivan Copywork Pages
Psalms for Kids Copywork Pages
The Tale of Despereaux Copywork Pages
Don't miss new copywork pages as they hit the blog.
Subscribe to Walking by the Way and get updates via email!